Masseria Maxima
Apulia Calabria and Basilicata - Giuggianello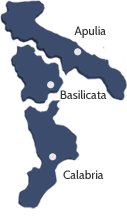 Nature, history and art have made Apulia a major tourist destination:discover a new land for your holidays.
Number of beds: 12 + 2
Bedrooms: 6 + 2

Amenities
:
ADSL Wi-Fi Internet
Air Conditioning
Country Views
Dishwasher
Hairdryer
Heating
Open fireplace
Parking
Satellite TV
Swimming Pool
Nearbies:
Lecce 37 km, Porto Badisco 12 km, Otranto 14 km, Castro Marina and Santa Cesarea Terme 10 km, Gallipoli and Santa Maria di Lueca 41 km, Brindisi Airport 85 km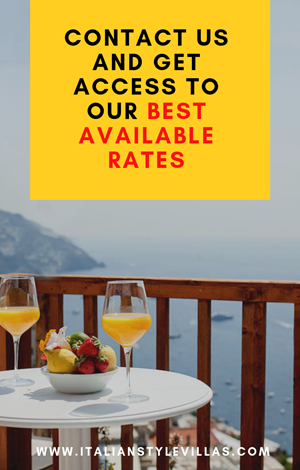 Search for your villa in Italy
Masseria Maxima - Giuggianello - Apulia
6 Bedrooms – 2 Pools
Location and Surrounding Area. Masseria Maxima, is an old farmhouse built in the eighteenth century and elegantly restored, preserving and enhancing elements of its original architecture. Situated in Giuggianello, the smallest town in the province of Lecce, in the Salento region to the south of Apulia. With only 1,200 residents, Giuggianello is a quiet and peaceful oasis of tranquility. Of particular interest to visitors is the botanical garden, La Cutura, with its magnificent collection of exotic and tropical plants. A short 15-minute drive away is the coastal town of Otranto and the nearby beaches of Porto Badisco, Castro Marina and Santa Cesarea Terme. A popular holiday destination for Italian tourists from every part of the country who are drawn by its crystal clear sea. It is an ideal place for water sports and snorkelling. Otranto also boasts a fine cathedral with a hugely impressive 11th century mosaic floor. Slightly further away is the coastal town of Gallipoli, a popular destination among LGBT visitors, with a thriving nightlife.
About half an hour's drive away is the beautiful Baroque city of Lecce, known as 'the Florence of the South'. As well as its numerous examples of Baroque architecture, including the Basilica di Santa Croce which has one of the finest and most intricate Baroque facades in all of Italy, Lecce is characterized by its typical limestone with its light yellow colouring. The history of the city is recounted in the stone of its many churches, pavements and ancient buildings.
Masseria Maxima is about 37 km from Lecce, 12 km from Porto Badisco, 14 km from Otranto, 10 km from Castro Marina and Santa Cesarea Terme, 41 km from Gallipoli and Santa Maria di Lueca, and 85 km from Brindisi Airport.
The Property. Masseria Maxima is characterized by the warm Lecce stone, evident in the façade of the structure, and also by the splendid vaulted ceilings of the large internal rooms.
The property consists of two units, the large and the small residence, and can accommodate up to 14 people in 6 double bedrooms and 2 singles. (The two single rooms are not normally used as bedrooms, but may be made up as such upon request)
Dimora Don Alfredo, the larger residence, consists of 3 double bedrooms with bathrooms, a large living room with fireplace, dining room and kitchen. The rooms are furnished with luxury and elegance, equipped with a king size bed, private entrance and air conditioning, allowing modern standards of comfort while retaining the rustic charm of a splendid Apulian farmhouse. A single bedroom is also available on request.
Dimora Laura, the smaller residence, consists of three bedrooms: one double with king size bed and en-suite bathroom, two double bedrooms and a further single bedroom (again, available on request). Furnished in a minimalist style compared to the suites of the Dimora Don Alfredo, they are once again characterized by design and details that enhance the charm and architectural style of Apulia.
The property can be rented in its entirety, for exclusive use, or separately. The two residences are, in fact, both independent and with precisely delineated spaces. For this reason, the structure has two outdoor pools (with salt water and hydromassage) for each of the two units, while sharing in the common areas a beautiful citrus grove, which compliments the Mediterranean character of the stone buildings. It is a real secret garden oasis inside an ancient hamlet, a haven of peace and quiet.
Features
Dimora Don Alfredo: 3 double bedrooms with bathrooms and a 1 single bedroom, a large living room with fireplace, dining room and fully equipped kitchen
Dimora Laura: 3 double bedrooms (en-suite) and 1 single bedroom, a living room with fireplace, dining room and fully equipped kitchen
2 Swimming pool with salt water and hydromassage
Garden
Pergola equipped for outdoor dining
Air conditioning
Heating
WI-FI internet
Sat TV
Hairdryer
Mar 2019
Apr 2019
May 2019

| | | | | | | |
| --- | --- | --- | --- | --- | --- | --- |
| Su | Mon | Tu | We | Th | Fr | Sa |
| | | | | | | |
| | | | | | | |
| | | | | | | |
| | | | | | | |
| | | | | | | |
| | | | | | | |

| | | | | | | |
| --- | --- | --- | --- | --- | --- | --- |
| Su | Mon | Tu | We | Th | Fr | Sa |
| | | | | | | |
| | | | | | | |
| | | | | | | |
| | | | | | | |
| | | | | | | |

| | | | | | | |
| --- | --- | --- | --- | --- | --- | --- |
| Su | Mon | Tu | We | Th | Fr | Sa |
| | | | | | | |
| | | | | | | |
| | | | | | | |
| | | | | | | |
| | | | | | | |

Jun 2019
Jul 2019
Aug 2019

| | | | | | | |
| --- | --- | --- | --- | --- | --- | --- |
| Su | Mon | Tu | We | Th | Fr | Sa |
| | | | | | | |
| | | | | | | |
| | | | | | | |
| | | | | | | |
| | | | | | | |
| | | | | | | |

| | | | | | | |
| --- | --- | --- | --- | --- | --- | --- |
| Su | Mon | Tu | We | Th | Fr | Sa |
| | | | | | | |
| | | | | | | |
| | | | | | | |
| | | | | | | |
| | | | | | | |

| | | | | | | |
| --- | --- | --- | --- | --- | --- | --- |
| Su | Mon | Tu | We | Th | Fr | Sa |
| | | | | | | |
| | | | | | | |
| | | | | | | |
| | | | | | | |
| | | | | | | |

Sep 2019
Oct 2019
Nov 2019

| | | | | | | |
| --- | --- | --- | --- | --- | --- | --- |
| Su | Mon | Tu | We | Th | Fr | Sa |
| | | | | | | |
| | | | | | | |
| | | | | | | |
| | | | | | | |
| | | | | | | |

| | | | | | | |
| --- | --- | --- | --- | --- | --- | --- |
| Su | Mon | Tu | We | Th | Fr | Sa |
| | | | | | | |
| | | | | | | |
| | | | | | | |
| | | | | | | |
| | | | | | | |

| | | | | | | |
| --- | --- | --- | --- | --- | --- | --- |
| Su | Mon | Tu | We | Th | Fr | Sa |
| | | | | | | |
| | | | | | | |
| | | | | | | |
| | | | | | | |
| | | | | | | |

Dec 2019
Jan 2020
Feb 2020

| | | | | | | |
| --- | --- | --- | --- | --- | --- | --- |
| Su | Mon | Tu | We | Th | Fr | Sa |
| | | | | | | |
| | | | | | | |
| | | | | | | |
| | | | | | | |
| | | | | | | |

| | | | | | | |
| --- | --- | --- | --- | --- | --- | --- |
| Su | Mon | Tu | We | Th | Fr | Sa |
| | | | | | | |
| | | | | | | |
| | | | | | | |
| | | | | | | |
| | | | | | | |

| | | | | | | |
| --- | --- | --- | --- | --- | --- | --- |
| Su | Mon | Tu | We | Th | Fr | Sa |
| | | | | | | |
| | | | | | | |
| | | | | | | |
| | | | | | | |
| | | | | | | |