Masseria I Due Trulli
Apulia Calabria and Basilicata - Gallipoli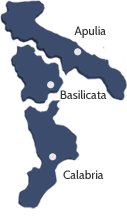 Nature, history and art have made Apulia a major tourist destination:discover a new land for your holidays.
Number of beds: 18
Bedrooms: 9

Amenities
:
ADSL Wi-Fi Internet
Barbecue
Breakfast Service
Concierge service
Country Views
Hairdryer
Hot-tub
Open fireplace
Parking
Satellite TV
Swimming Pool
Nearbies:
Gallipoli 3 km; Punta della Suina, Lido Pizzo, Marina di Mancaversa, Torre Suda, Torre San Giovanni, Pescoluse located at a very short distance; Bari international airport 200 km, Brindisi international airport 90 km
Search for your villa in Italy
Masseria I Due Trulli – Gallipoli - Apulia
9 Bedrooms – Pool – Outdoor Jacuzzi
An oasis of peace and harmony, surrounded by olive groves and only 3 km from the beach.
Location and Surrounding Area. Masseria I Due Trulli is set in six and a half hectares of splendid, century-old olive groves. Their gnarled trunks and silver-tipped leaves seem to whisper tales from the passing travellers of bygone eras. From the villa, you can see the Bay of Gallipoli and watch the boats as you sip an aperitif from the shade of the pergolas.
Gallipoli offers visitors a splendid historical centre and plenty of sites of architectural and artistic interest. The 17th century baroque cathedral of Sant'Agata has a richly decorated facade and a polychrome high altar by Cosimo Fanzago. Both Gallipoli and Porto Cesareo are excellent spots for enjoying an evening aperitif as you watch the sun set over the water.
Porto Selvaggio is a fantastic natural oasis lapped by the uncontaminated waters of the Ionian Sea. This area of coastline offers both timeless villages and sandy coves worthy of a refreshing swim. The turquoise waters in the sheltered cove at Porto Badisco make for safe swimming and excellent snorkelling. According to Virgil, Porto Badisco was the site of Aeneas's first landing in Italy after his escape from Troy but some historians dispute the fact and suggest the Roman harbour of Castro instead. Castro is another gorgeous, coastal fishing village with the historical centre up on the hill and the lively marina below.
Sports enthusiasts will be happy to hear that there are plenty of local facilities that offer cycling, fishing, scuba diving, kite-surfing and water-skiing. Or why not rent a yacht and explore the gorgeous little Island of Sant'Andrea?
Gastronomic and wine tasting tours with expert local guides can easily be arranged. In May and June, Masseria I Due Trulli holds courses in the ancient art of Salento sweets and pastries.
Masseria I Due Trulli is 200 km from Bari international airport and 90 km from Brindisi international airport.
The Property. Masseria I Due Trulli was once an 18th century farmhouse and has been lovingly restored with original materials. It offers five sumptuous double bedrooms, each with its own en suite bathroom. Three of the bedrooms are on the ground floor and each have a private outdoor patio area. The other two doubles are on the first floor and have private access to a panoramic terrace. One of these first floor bedrooms is also fitted with a Jacuzzi.
The living areas and reception hall feature traditional vaulted ceilings and have been stylishly decorated to reflect the colours of the surrounding countryside. The living room has an enormous fireplace for enjoying cozy evening conversations. The kitchen is large and modern and contains everything a budding chef might need.
In the garden we can find 2 typical Trulli. they host 4 spacious double bedrooms with en suite bathroom, each with independent access. Two bedrooms in each Trullo can be connected, so they can be perfect for families with small children.
The swimming pool is set into lush green lawns and encircled by the olive trees and various aromatic Mediterranean plants. The poolside area is fully-furnished with sunbeds, umbrellas, tables and chairs. There is a barbecue area in the garden for grilling freshly caught fish and the organic produce from the vegetable garden.
Download this Villa details and photos as pdf

Features
5 Double bedrooms, each with en suite bathroom
2 Trulli in the garden can accommodate 8 people in 4 double bedrooms
Living room
Dining area
Reception area
Fully-equipped kitchen
Meeting room
Wi-Fi
Sat TV
Swimming pool with sunbeds, umbrellas, tables and chairs
Outdoor Jacuzzi
Equipped patio
Gardens and olive groves
Organic vegetable garden
BBQ area
Free parking
Services on request: breakfast with fruit and marmalades from the garden, local cakes and pastries, boat trips, daily newspapers, luggage deposit, currency exchange, ticket services, tour guides, gastronomic tours and wine tasting, horse riding
This is the area where your selected property is located - the pin is indicative and not an exact address.