La Vista Estate - Villa Barbara
Tuscany - Castellina Marittima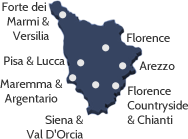 Tuscan Cowboys - really? YES! Come ride some of the most spectacular horse riding trails through the rugged Tuscan terrain opening onto some of the most beautiful beaches in the world. Family fun to fine dining this area offers everything you are looking for in a versatile picturesque destination founded by the Etruscans.
Number of beds: 10
Bedrooms: 5

Amenities
:
ADSL Wi-Fi Internet
Barbecue
Country Views
Daily cleaning
Dishwasher
DVD Player
Hairdryer
Hi-FI System
Open fireplace
Parking
Satellite TV
Swimming Pool
Washing machine
Nearbies:
Livorno 41,1 km Pisa 67,0 km Lucca 85,7 km Siena 99,4 km Florence 116 km Florence Airport 116 km Arezzo 193 km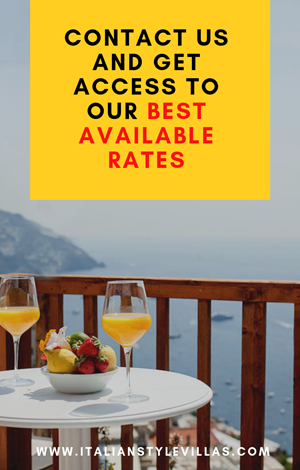 Search for your villa in Italy
La Vista Estate

– Villa Barbara - Castellina Marittima – Tuscany Coast
5 Double/Twin bedrooms – Shared Pool
This amazing 13 hectares Estate called LA VISTA is located next to the Tuscan Coasts once an Etruscan domain, on the borderland of northern Maremma, on the hills of Cecina at 300 m. over sea level. The villa is 4 kms far from the village of Castellina Marittima and 10min to the beach. The villa is also close (20 min.) to Lajatico and Casciana Terme a location now very well known for its thermal baths and the Teatro del Silenzio, where the greates italian tenor Andrea Bocelli has a concert every year in Summer.
La Vista Estate, set within the wide, wild and environmentally protected Nature Reserve, includes 4 stone-houses completely renovated, resulting from a complete restructuring of farm houses dating back the XVIII° century. This location can be rented in exclusivity for largest groups or in occasion of an event. The villa can be rented separately from smaller parties.
All the houses, completely independent each other so as to assure good privacy, has a fantastic view of the Tyrrhenian Sea and the main Tuscany islands: Elba, Capraia, Gorgona and the French island Corsica.
The compound offers to its guests a 5 hectares garden, designed by an international well-known Italian architect. Outdoors are full of fruit plants of many different Mediterranean areas and a superb, fully equipped swimming pool area. This includes a large solarium, a 16 x 8 x 1.4 m. pool, with a low water side for children, a patio with sun-beds and chairs, a one floor building hosting a changing room, a fitness room, a bathroom.
Close, on the grass, a large stone-made barbecue allows to grill the excellent Tuscan T-bone stakes and sausages, and dine relaxed around a table under the shadow of the patio. A couple of glasses of super Tuscan wine may help to create the ideal atmosphere: the choice is wide, but a suggestion is between the world known Chianti DOCG red wine or, if you wish to excel and be more generous to your friends than to your pocket, one of the world leader Italian wines the Lupicaia-Castello del Terriccio.
This is particularly easy to find close LA VISTA, since its vineyards and warehouses are within this Nature Reserve.
ACCOMODATION AT LA VISTA ESTATE
All houses was built facing toward the coast in order to ensure you the best view, especially at sunset when you'll see the sun ending in the cleanest Mediterranean waters. Each villa has a south-facing patio covered by flowers, an ideal place for sitting to sunbath and/or have outdoor breakfast, lunch or dinner.
The houses are different in size and lay-out, but all have a basement with washing machine, drying space, iron and board. Also, they all have fully furnished kitchens, with a large fridge, dishwasher, microwave, American coffee machine. Any bedroom is equipped with blankets, covers, etc. and a change for washing. All bathrooms have soaps, hairdryer and towels with a change for washing.
A satellite TV showing all major international channels is available in the living room of each house, mobile phones and their Wi-Fi Internet Key allow to get and make calls and emails.
The standard rent price of each house includes maid service for 2 hours a day, 5 days a week. Guests looking for maid, cook or valet services in excess of the above are recommended to make a specific request when booking the house, since staff availability has to be planned with early notice.
The estate is composed by 4 HOUSES, named:
Villa AMIRA
Villa BARBARA
Villa CARLA
VIlla DANIELA
COVERED LOGGIA FOR 5 CARS.
VILLA BARBARA (2 levels)
Accomodation: 10 pax
GROUND FLOOR. Main entrance TV room with Satellite plasma TV; Large living room with fireplace and large windows with view on the valley. Dining room with table for seating up to 12 guests.
Kitchen with all necessary appliances and table for seating up to 10 guests. Iron and board. Guest Bathroom.
FIRST FLOOR. BEDROOM# 1: Double bedroom with queen-size bed. Private bathroom with shower.
BEDROOM # 2: Master bedroom with queen-size canopy bed, en suite bathroom with tub and shower. BEDROOM # 3: Double bedroom with two single beds with en suite bathroom with shower. BEDROOM # 4: Double bedroom with queen-size bed. En-suite bathroom with shower. BEDROOM # 5: Double bedroom with twin single bed. Ensuite bathroom with tab and show.
This villa can be rented separately or a whole property with Amira, Carla and Daniela villas.
GARDEN: Large property- 13 hectares with view on the valley; COVERED PATIO with kitchenette, refrigerator and BBQ. Any house is independent with its own area for dining outside.
The Solarium: Pathwayslead to a superb swimming-pool with overflow effects just below the houses. A large solarium with sun-beds frames the 16 x 8 x 1.4 m. pool, with a shallow end for children. By the side, a one floor building with a pergola, a changing room and a bath-room with a hot-water shower and a fully equipped kitchen. A large stone barbecue by the pergola allows you to grill the excellent Tuscan T-bone steaks and sausages. The pool is shared between the four houses if the villas are rent separately.
INCLUDED IN THE PRICE: gas, electricity, bed and bath linen, cleaning service (2 hours a day, 5 days a week/Mond- Frid), pool and garden maintenance.
NOT INCLUDED IN THE PRICE: telephone (payable by meter), internet connection upon usage.
Download this Villa details and photos as pdf

Features
5 Hectares

garden with view on the valley

Shared Pool (mt. 16 x 7) equipped with sun beds, tables, changing room

Covered PATIO with kitchenette, refrigerator and BBQ

Equipped

kitchen

with a large fridge, dishwasher,

microwave

, American coffee machine

Telephone, Fax, Fast Internet connection

INCLUDED IN THE PRICE: gas, electricity, bed and bath linen, cleaning service (2 hours a day, 5 days a week/Mond- Frid), pool and garden maintenance

NOT INCLUDED IN THE PRICE: telephone (payable by meter), internet connection upon usage