Villa Pintello
Tuscany - San Casciano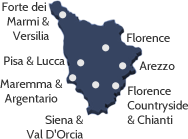 See what inspired the great DaVinci, stroll through vineyards, endless fields of poppies, sunflowers and spot a trail of cypress trees leading to a noble villa producing a Super Tuscan wine. Whether it is your first or your fifteenth time - the cradle of the Renaissance - is one of the most amazing places on earth!
Number of beds: 9 + 2
Bedrooms: 6

Amenities
:
ADSL Wi-Fi Internet
Air Conditioning
Barbecue
Country Views
Daily cleaning
Dishwasher
DVD Player
Gym
Hairdryer
Heating
Hi-FI System
Open fireplace
Parking
Playground for children
Pool Table
Satellite TV
Swimming Pool
Table tennis
Washing machine
Nearbies:
Florence 10 km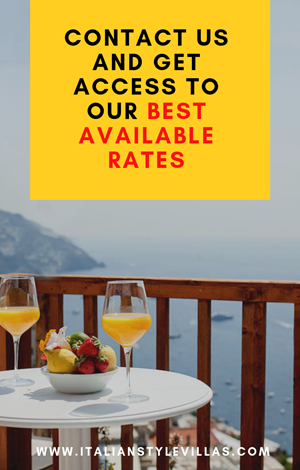 Search for your villa in Italy
Villa Pintello – San Casciano - Tuscany
6 Bedrooms – Pool
Villa Pintello dates back in the Renaissance period and overlooks the hills of Chianti Fiorentino, in a magnificent, quiet and dominant position, just 10 km from the historic centre of Florence.
The Property. Ground floor: 1 double bedroom with en suite bathroom.
Main floor: common area, dining room, 2 living rooms. 1st floor 1 double bedroom with en-suite bathroom, 1 double bedroom and 1 single room with a shared bathroom, 2 double bedrooms (one with en-suite bathroom, the other one with external bathroom).
The villa includes a 12 x 6 m. pool with sunbeds area with sun loungers and umbrellas, bowling alley, gymnasium, billiards, table tennis, discotheque with cinema area (70 'TV LCD screen with Dolby surround facility), large private garden enclosed with small Consecrated church, games for children, cleaning service 4 hours a day for 5 days a week. Large panoramic rooftop terrace overlooking the main salon.
On 2018 all the bathrooms of the villa will be refitted.
All areas of the villa are available to guests, less the inner cellar, which can be visited on request and in the presence of the staff or the owner.
The villa is equipped with games for children; small and medium sized animals are accepted (on request), but valuable carpets and furniture in the villa will be removed.
Download this Villa details and photos as pdf

Features
5 Double bedrooms
1 Single bedrooms
6 Bathrooms (3 en-suite)
Swimming pool with sunbeds area, sun loungers and umbrellas
Private garden with BBQ
Small consecrated church
Equipped rural kitchen with dishwasher, oven, microwave, fridge, toaster
Washing machine and dryer
Fireplace
Gym
Billiards and table tennis
Games for children
Discotheque with cinema area
Air conditioning and heating
Hairdryer
WI-FI internet
LCDTV, DVD player, HI-FI system with Dolby surround
Daily maid 4 hours a day for 5 days a week
Parking
Mar 2019
Apr 2019
May 2019

| | | | | | | |
| --- | --- | --- | --- | --- | --- | --- |
| Su | Mon | Tu | We | Th | Fr | Sa |
| | | | | | | |
| | | | | | | |
| | | | | | | |
| | | | | | | |
| | | | | | | |
| | | | | | | |

| | | | | | | |
| --- | --- | --- | --- | --- | --- | --- |
| Su | Mon | Tu | We | Th | Fr | Sa |
| | | | | | | |
| | | | | | | |
| | | | | | | |
| | | | | | | |
| | | | | | | |

| | | | | | | |
| --- | --- | --- | --- | --- | --- | --- |
| Su | Mon | Tu | We | Th | Fr | Sa |
| | | | | | | |
| | | | | | | |
| | | | | | | |
| | | | | | | |
| | | | | | | |

Jun 2019
Jul 2019
Aug 2019

| | | | | | | |
| --- | --- | --- | --- | --- | --- | --- |
| Su | Mon | Tu | We | Th | Fr | Sa |
| | | | | | | |
| | | | | | | |
| | | | | | | |
| | | | | | | |
| | | | | | | |
| | | | | | | |

| | | | | | | |
| --- | --- | --- | --- | --- | --- | --- |
| Su | Mon | Tu | We | Th | Fr | Sa |
| | | | | | | |
| | | | | | | |
| | | | | | | |
| | | | | | | |
| | | | | | | |

| | | | | | | |
| --- | --- | --- | --- | --- | --- | --- |
| Su | Mon | Tu | We | Th | Fr | Sa |
| | | | | | | |
| | | | | | | |
| | | | | | | |
| | | | | | | |
| | | | | | | |

Sep 2019
Oct 2019
Nov 2019

| | | | | | | |
| --- | --- | --- | --- | --- | --- | --- |
| Su | Mon | Tu | We | Th | Fr | Sa |
| | | | | | | |
| | | | | | | |
| | | | | | | |
| | | | | | | |
| | | | | | | |

| | | | | | | |
| --- | --- | --- | --- | --- | --- | --- |
| Su | Mon | Tu | We | Th | Fr | Sa |
| | | | | | | |
| | | | | | | |
| | | | | | | |
| | | | | | | |
| | | | | | | |

| | | | | | | |
| --- | --- | --- | --- | --- | --- | --- |
| Su | Mon | Tu | We | Th | Fr | Sa |
| | | | | | | |
| | | | | | | |
| | | | | | | |
| | | | | | | |
| | | | | | | |

Dec 2019
Jan 2020
Feb 2020

| | | | | | | |
| --- | --- | --- | --- | --- | --- | --- |
| Su | Mon | Tu | We | Th | Fr | Sa |
| | | | | | | |
| | | | | | | |
| | | | | | | |
| | | | | | | |
| | | | | | | |

| | | | | | | |
| --- | --- | --- | --- | --- | --- | --- |
| Su | Mon | Tu | We | Th | Fr | Sa |
| | | | | | | |
| | | | | | | |
| | | | | | | |
| | | | | | | |
| | | | | | | |

| | | | | | | |
| --- | --- | --- | --- | --- | --- | --- |
| Su | Mon | Tu | We | Th | Fr | Sa |
| | | | | | | |
| | | | | | | |
| | | | | | | |
| | | | | | | |
| | | | | | | |