L'Olmo del Chianti
Tuscany - Barberino Val d'Elsa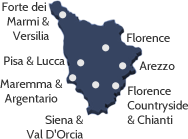 See what inspired the great DaVinci, stroll through vineyards, endless fields of poppies, sunflowers and spot a trail of cypress trees leading to a noble villa producing a Super Tuscan wine. Whether it is your first or your fifteenth time - the cradle of the Renaissance - is one of the most amazing places on earth!
Number of beds: 24
Bedrooms: 12

Amenities
:
ADSL Wi-Fi Internet
Air Conditioning
Babysitter
Barbecue
Breakfast Service
Cooking Class
Cooking Service
Country Views
Daily cleaning
Dishwasher
DVD Player
Hairdryer
Heating
Hi-FI System
Laundry service
Open fireplace
Playground for children
Satellite TV
Swimming Pool
Table tennis
Washing machine
WIne Tasting
Nearbies:
Florence 30,6 km Florence Airport 45,3 km Siena 44,7 km Pisa 90,9 km Arezzo 97,8 km Lucca 103 km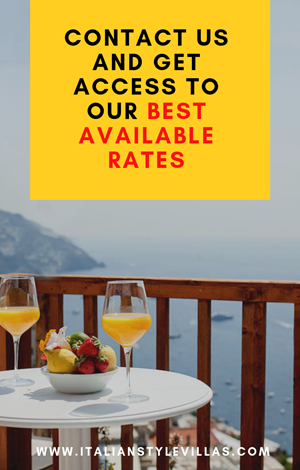 Search for your villa in Italy
L'Olmo del Chianti – Barberino Val D'Elsa – Tuscany
11 Bedrooms – Pool - SPA
L'Olmo del Chianti is located about 200 metres from the medieval town of Barberino Vald'Elsa. Our guests may, therefore, forget the car on which they arrived or even arrive without one! The town has all sorts of shops that offer quite an array of services. You can find small shops that sell local produce (foods, newspapers, objects, souvenir shops and also bars, restaurants, "enoteche", wine cellars, children playground areas. There is a bus line (bus stop 100mtrs from) to Florence, Siena, Colle Val d'Elsa, San Casciano, San Gimignano.
In the warm summer evenings there are a few places that offer open air entertainment including live music. Even though L'Olmo del Chianti is very close to the town, it preserves its absolute privacy thanks to the 15 hectares of olive trees (property of the L'Olmo del Chianti for production of extravergin olive oil) that stand between the town and the property. In the property there is a small vineyard, fruit trees and a garden from which there is a breathtaking view. On one side the endless valley with vineyards and olive trees and on the other side, watching over the L'Olmo del Chianti, the medieval village with its bell tower and houses that light up during the evening and make it look like a living brethren.
L'Olmo del Chianti dates back to the 1700/1800s and are immersed in the landscape designl garden with a central well. The original construction has been maintained with its antique stone walls but inside, modern comfort is united to the antique Tuscan atmosphere.
The whole complex offers accommodations from 12/13 guests (main villa) to max 20/24 guests, included children and babies.
The Main Villa: 12/13 persons
Garden house 1°: 2 persons
Garden House 2°: 2 persons
1° Orange room "Il Nespolo" : 2 persons
2° Ecrù room "Il Noce" : 2 persons
In the magnificent landscape with its many views, it is imagined and conceived the amazing swimming pool, inserted amongst the hillsides and their vineyards overlooking an endless horizon and framed by a panorama of incomparable beauty.
Barberino Val d'Elsa is a small medieval town that dates back to the 1200s and is surrounded by its original medieval walls.
It can happen to those who arrive in this magic place that they imagine themselves part of a fairytale this is what happened to me the first time I saw this countryside and this house, just a short distance from the delectable medieval town of Barberino Val d'Elsa, in the heart of Chianti with it's lush hillsides midway between Florence and Siena, in one of the most beautiful part of Tuscany!
The town has been awarded with the Orange flag by the Italian Touring Club. Barberino Val d'Elsa is the most romantic and authentic medieval village of the Val d'Elsa (Valley of the Elsa river).
Considered to be a small diamond in the heart of the Chianti Classico area, it is not only authentic but quite organized for Tourists and visitors that year after year come back to enjoy the surrounding country side with its soft hills, small towns, churches, castles, each of which has a story to tell. It is also a delight for the gourmet palate that is sure to enjoy the many local restaurants and wine cellars where only the freshest ingredients and finest local wines are served.
Accommodation
MAIN VILLA (12/13 people)
GARDEN HOUSE 1°[2 people]
GARDEN HOUSE 2°[2 people]
COTTAGE SPA (no sleep) [45mq + 50mq panoramic patio]
ORANGE ROOM "Il Nespolo" [2 people][new room]
ECRU' ROOM "Il Noce" [2 people][new room]
Main Villa : 12/13 guests - 6 bedrooms, 7 bathrooms.
Built in the 1800s, it's a typical Tuscan of 600 sqm. The Villa is divided in two floors with a central tower. The many large windows and doors allow the sun to filter and gloriously illuminate the inside on both floors. Brick vaults on the ground floor, wooden beams on the top floor and cotto floors all over make this villa an outstanding example of Florentine style.
Privategardenwith barbecue and children plays area, swimming pool and amazing view. It is an excellent opportunity for an exclusive vacations for groups and families.

Ground Floor: 2 living-rooms,kitchen, patio, laundry, 1 bedroom en suite bathroom, pc area, 1 half bathroom:
- one wonderful triple dining and livin-groom with a dining table for 12/16 (other table for more people), comfortable couches and armchairs scattered here and there plus a satellite TV, CD players, and Hi Fi including cds. Elegant and antiques furniture.
- On one of the areas a cosy living room with fireplace where you can relax and read some of the English books available for guest use or listen music ... or play piano!
- The red bedroom(Il Ciliegio ) with two single beds (can become a double bed) and en suite bathroom with shower.
- Half service bathroom
- All spaces are connected by large corridor where is PC area with fast internet connection (ADSL) -- A small laundry room with washing machine and dry machine
- big double kitchen with all the accessories you may need to organize dinners for your family or friends. It is equipped by: two stoves with 8 fires, 2 electric ovens, 1 gas oven, microwave, big refrigerator, American coffee machine, dishwasher, water dispenser for cold or warm water for tea - 20 drinkable water litres box (available at euro 25.00 each) and a little cellar with some wines on disposal. Upon request, the cook is always available to prepare dinners that can be enjoyed sitting comfortably also in the adjacent covered charming patio with a table from 12 to 18 people with amazing garden and valley view!

Top Floor:
5 extra large bedrooms with private bathrooms and amazing view , four of which with its own fireplace:
- The yellow room "La Ginestra": big Junior Suite with Kingsize bed, fire place and bathroom with tub and hand held shower. Crib corner .
- The green room "Il Pero": big junior Suite with King bed, fire place and bathroom with tub and hand held shower.
- The bordeauxroom "Il Melograno": big junior Suite with King bed, fire place and bathroom with shower stall
- The blue room "La Vite": Spacious room with 1 French bed and 2 single beds, bathroom with shower stall.
- The white room "Il Mandorlo": master Suite, King bed, dinning area, fire place, sitting area with extra single bed + full bath with tub and shower stall
The INFINITY POOL: This sumptuously infinity pool (16 x 9 meters) was projected by the owner. It appears as a crystal diamond set in the midst of the countryside. You can enjoy the most extraordinary view while swimming from the breathtaking cascade that falls from one of the pools border and comfortably sit there overlooking the vast vineyards, refreshed by the cool water while enjoying the warm morning sun or the most incredible red sunset holding a glass of Chianti !!
- In a warm sunny day the colour and sound of the water offer moments of unforgettable relax&.with the birds that , flying over the pool, lightly touch the water to calm their thirst!

The GARDEN: - Was projected by the owner – big fresh lawns, many fragrant hedges and flowers projected to setting the beautiful landscape and the terrific views!
The GUEST HOUSE (bedroom and bathroom only)
For 2 guests - 70mq. first floors in the building in front the main Villa 15mtrs.
This cottage may be rented for special occasions: just for big group, only after that all cottages are just rented!
The country style interior is characterized by luxurious touches, wooden white beams and old hand made cotto floors. Elegant and spacious double bedroom in the first floor, marble antics fire place in front the beautiful designer king size bed . Full elegant bath with tub and shower stall, wood in the floor. Exquisitely decorated with antique furniture beautiful tissues and pieces and paintings chosen personally by the owner during her extensive travels in Europe, recall its a warm atmosphere. Appliances: satellite TV, stereo, washing machine in common with Il Nespolo and Il Noce bedrooms. Perfect for honeymoons and very special guests. Due to the many antiques and personal belongings of the owner this specific cottage is not suitable for children.
THE GARDEN House 1 - 2 people - 20 mq.
the building is 25mtrs from the main villa - ground floor - Private entry. A large window and a glass door illuminate the gracious and simple bottom floor with wooden beams and cotto floors. There is a bedroom with 2 single beds. Private bathroom with shower stall. Private bathroom with shower stall.
THE GARDEN HOUSE II
the building is 25mtrs from the main villa - ground floor - Private entry. A large window and a glass door, illuminate the gracious and simple bottom floor with wooden beams and cotto floors. There is a bedroom with double bed. Private bathroom with shower stall. Private bathroom with shower stall.

THE GARDEN HOUSES 1° + 2° 40mq. apartment the two rooms can be communicating by a door .
The Orange room: 20mtrs from the main villa - first floor. 2 people. 20mq.
Elegant bedroom with double bed + private bathroom .
Cost not included : air condition euro 200.00 a week
The Ecrù room: 20mtrs from the villa - first floor. 2 people. 20mq.
Elegant bedroom with double bed + private bathroom .
Cost not included : air condition euro 200.00 a week
COTTAGE SPA
outside:
15 mtrs near the swimming pool. By 3 steps you arrive to the patio, perfect to drinks with your friends or family ,during the day, expecially during the red sunsets, surrounded from many flowers .... in the night surrounded from many fireflyes during the Summer, admiring the amazing view!
bbq, chairs, chaise longues are included in the spa rental.
Inside :
- bathroom : Carrara marble in the floor and walls, Murano glasses, wc, big shower, rediffusion, air conditioned,
- Finnish Sauna (2/3 people)and relax space
- description: wood in the floor, wall with big mirror, antiks stones in others walls , air conditioned, Gymnasium and a relax space, chaise longue in front a nice fireplace.
There is a comfortable sofabed one place and half (only for 'eclusive use' rent ) English books, cachemire plaids, rediffusion and plays are on disposal for the guests .
On disposal of the guests, a little cellar with drinks and wines ...!
Features
From 6 to 11 double bedrooms with bathrooms

Air conditioning in all bedrooms at first floor (Villa+Annexes)

Internet access (also WI-FI) and Computer facilities

Daily maid service (4 hoursx day ) except on Sunday and holidays

1 change of linen per week and 2 changes of towel

Breakfast box for one day

ADDITIONAL SERVICES:

Cooking services/ Cooking Class / Spa use/Baby sitting / Limo service / Vineyards sommelier tours / Country side travel arrangements / Wine, cheese and olive oiltasting / 2 cribs / Weddings / Partyes
This is the area where your selected property is located - the pin is indicative and not an exact address.