Castello Visconti
Riviera Adriatica - Grazzano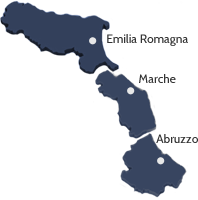 The region has a spectacular culinary tradition. But there are many reasons to come here: Parma's Correggio paintings, the medieval splendor of Bologna, the rolling hills of the countryside, the Byzantine beauty of mosaics in Ravenna.
Number of beds: 17
Bedrooms: 12

Amenities
:
ADSL Wi-Fi Internet
Cooking Service
Dishwasher
DVD Player
Hi-FI System
Open fireplace
Satellite TV
Swimming Pool
Washing machine
Nearbies:
Piacenza 15,8 km Genova 161 km Milan 92,4 km Parma 79,8 km Bologna 168 km Verona 161 km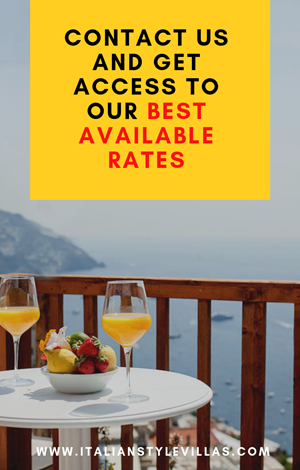 Search for your villa in Italy
Castello Visconti – Grazzano Visconti – Emilia Romagna
12 Bedrooms (4 double, 1 twin, 7 single) - Pool
HISTORY
The castle dates back to the 13th century and it was used as a fortress, since the valley it sits in leads to Genoa and was one of the main routes of trade for the olive oil. It was originally built by the Visconti family, which were lords of Milan and an area of norhtern italy which included part of southern switzerland, parts of Veneto and Emilia Romagna. The castle throught eh centuries went out and back into the family through weddings and inheritances, until it was given to my great-grandfather from his father as a wedding gift. My great grandfather fell in love with a half-broken down castle which was then use as a grainary. He proceded to restore it to full splendor and, not satisfied with that, built around it not only a beautiful italian garden, but an entire medival-style village which sits around the park (far enough from the house to be very quiet). He then proceeded to set up an artisanry school so that the villagers could change the way they made a living from agriculture to wood-carving and iron-work.
Today Grazzano, the village that my family still owns, is visited by many thousand tourists during the good season, making his quirky dream a wonderful reality. The Castello Visconti is also the place where the great opera-theatre-film director Luchino Visconti spent many of his summers, since he was one of the 7 children of Giuseppe Visconti, my great grandfather.
ACCOMODATION
Camera Rossa Room: 1 double bed, 1 bathroom with bath tub. The room is probably around 70 sq. m.
Camera Cardinali: 1 large single bed, approx 40 sq. mt, bathroom with bath tub to be shared with adjacent room with also a large single bed.
Master Room: 1 double bed, room is approx. 60 sq. mt. with private bath room with bath tub.
Sopra il Portone: two single beds, adjacent bathroom to be shared with Bestie room wich has a large single bed.
Rossa Piccola: single bed, bathroom to be shared with Stanza degli Spiriti which has a large single bed.
Loggetta Wing: 1 room with double bed and private bathroom with bath tub.
2 single rooms with one bathroom to be shared with bath tub. 1 double room with private bathroom with bath tub.
Plus a couple or more if needed, basic rooms for personnel use.
There is no air conditioning in the castle. The walls are over one meter in thickness and provide a very comfortable indoor temperature even inthe warmest weather. The ceilings are also very high, in excess of five meters in most rooms.
I don't think there are magnifing glasses or hair driers, but if needed we can provide them. As there is no heating system in the house there are no heated towel rails. Of course there is plenty of hot water.
Dining: there are three rooms. One large for personnel, one small (6 to 8 people), one large that seats I would say around 12 or 14. The small and large dining rooms are adjacent, so when we have a lot of people for dinner we usually use both. We use antique silver ware, and quite simple glasses and plates. Nice but not antique. We o have all sorts of antique tableware, but it is used only on special occasions.
Kitchen and laundry: fully equipped very large kitchen. There is also a dishwasher, laundry machine and dryer and a large ironing room.
The castle has a large entrance and a huge living room divided in two. The living room has also a veranda chaise-longues and big umbrellas for protection from the sun.
There is also a library with a large screen tv and cable (italian Sky TV which has plenty of both movies and news in english). There is a stereo and an old large Steinway piano. A fax is available but internet connection unfortunately is slow, since we are in the country side, but of course we could improve on this.
Pool: the pool is apporximately 20 m. in lenght by 6 m. It has a shallow end which is maybe 1.6 meters with steps to walk in, it is not fenced off. There is a pool house. The pool is about 80 meters from the veranda at the castle, and hidden among trees.
The area around Grazzano is full of places for day trips such as Parma, Mantova or Sabbioneta. Also the hills near by offer good walks and mountain bike tracks. There is also a golf course about 15 minutes from Grazzano, which has a beautiful panorama. Massages can be organized upon request. Plenty of places within a 15 min. drive for horseback riding.
The area is well know for it's culinary traditions.
As far as staff is concerned, I'll tell you how we organized it last summer when we rented the property for 10 days. There were two people, husband and wife that slept at the house, plus one cook which we hired for our guests, plus two people coming everyday for clean up and laundry. The basis is four people, but I would also recommend the cook. We can give you rates including the cook or not, as you wish. Please bare in mind that the cook is from the area, hence it cannot be expected by the clients french cuisine or fusion. If that is the case, given a good advanced notice, we can find one that can cook that type of cuisine.
Download this Villa details and photos as pdf

Features
12 Bedrooms (4 double, 1 twin, 7 single)

On request 2 or more bedrooms for personnel

Pool with pool house and outdoor furnishing

Veranda, chaise-longues and big umbrellas

Equipped kitchen with alla appliances

Washing machine, dryer, iron and ironing board

Large screen TV, Sky TV, stereo system
This is the area where your selected property is located - the pin is indicative and not an exact address.