Villa La Sponda - San Giuseppe Apartment
Villa La Sponda - San Giuseppe Apartment
Amalfi, Sorrento and Islands - Positano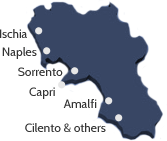 A sheer drop to the crystal sea, elegant villas set in greenery, abundant terraces of lemon trees. This is Amalfi Coast! The origins of its name go back to Hercules who found the most seductive place on earth in which to bury the nymph Amalfi with whom he had fallen in love.
Number of beds: 2
Bedrooms: 1

Amenities
:
ADSL Wi-Fi Internet
City Views
Daily cleaning
Ocean Views
Satellite TV
Nearbies:
Amalfi 16,2 km Pompei 37,5 km Naples 59,7 km Naples Airport Capodichino 63,1 km Naples Central Train Station 59,7 km Rome 277 km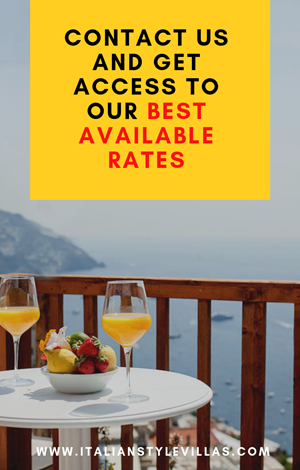 Search for your villa in Italy
Villa La Sponda - San Giuseppe Apartment – Positano
1 Double bedroom – Sofa bed
Villa La Sponda Apartments is a well decorated historical villa of Positano, based on four levels and divided in 7 apartments. Once it was one of the most antique hotel in Positano, opened in the second half of 19th century, it hosted travellers coming from every corners of the world. At the end of the last century it was transformed and divided in very spacious apartments each with its private panoramic terrace and well decorated with the typical style of Mediterranean house along the Amalfi Coast. The apartments are truly home from home flats, fit for short or long term rentals. VIlla La Sponda is situated in one of the most scenic areas of Positano on the Amalfi Coast, just 5 minutes walking to the pedestrian area with its restaurant and shops and the Spiaggia Grande (Big Beach). Thanks to its position you'll enjoy the maximum privacy, the best views of Positano in a very charming and peaceful location. Villa La Sponda Apartments is an ideal place for exploring the Amalfi Coast or to live a sample of Italian lifestyle in a lively seaside town as Positano, well known worldwide for its beauty.
The Villa consists of 7 spacious and air conditioned apartments from 1 to 3 bedrooms based on four levels. The access is on the third floor. This is an ideal place for couples, families and groups of friends that would stay in a great location in the centre of Positano having all the comforts of own home. Each apartment is recently rennovated, is very well decorated with antiques furnishings. They are also featured by elegant hand made tiles floors in Vietri style and high vaulted ceiling and new bathrooms.
The villa is composed by seven units:
First level: San Giuseppe (1 bedroom - 1 bathroom) and Pompei (2 bedrooms - 1 bathroom)
Second Level: Palinuro and Giardino - (each with 1 bedroom - 1 bathroom)
Third Level (doorway level): Ischia and Positano - (each with a double bedroom)
Fourth Level (Attic): Margherita (3 bedrooms - 3 bathrooms).

San Giuseppe Apartment (1 bedroom - 1 bathroom - 1st Floor – 44 sq. m.)
San Giuseppe is a joyful apartment with very bright and vivid colours. It is perfect for a couple. It has a living room with sofa bed, a double bedroom with queen size bed, a kitchen and a bathroom with shower. On the long balcony you can sit and admire the view.
The apartment can be rented and connected with the next door Pompei apartment. They are connected through a short corridor, that can be separetd from the rest of the apartments.
Features
1 Bedroom with queen size bed

Internet Access and telephone

Maid service (2 hours 2 times a week)

Cot (on request)