Villa Il Tramonto
Amalfi, Sorrento and Islands - Amalfi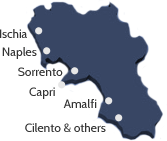 A sheer drop to the crystal sea, elegant villas set in greenery, abundant terraces of lemon trees. This is Amalfi Coast! The origins of its name go back to Hercules who found the most seductive place on earth in which to bury the nymph Amalfi with whom he had fallen in love.
Number of beds: 12
Bedrooms: 6

Amenities
:
ADSL Wi-Fi Internet
Air Conditioning
Babysitter
Barbecue
Dishwasher
Hairdryer
Heating
Open fireplace
Parking
Satellite TV
Swimming Pool
Washing machine
Nearbies:
Town centre 2 km Positano 16,1 km Pompei 46.4 km Naples 70,7 km Naples Airport Capodichino 75,0 km Naples Central Train Station 70 km Rome 283 km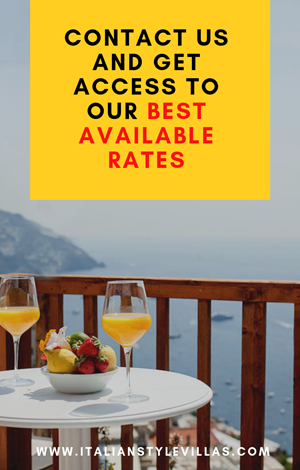 Search for your villa in Italy
Villa Il Tramonto – Amalfi – Amalfi Coast
6 Bedrooms (double/twin) – Pool
Villa Il Tramonto is an elegant and fine resort, a magnificently located on Amalfi Coast, overlooking the beautiful stretch of coast as far as the promontory at Capo d'Orso and the bay of Salerno, a wide view of the sea and the most picturesque part of Amalfi, photographed and printed in every postcard. The recent renovation has transformed villa il Tramonto in a very pleasant holiday house offering high level of privacy and unbelievable evocative atmosphere. The interior of the Villa is airy, fully of light and immaculate. It has the warm welcome of home: the choice of colours, the floors in antique terracotta tiles, the high vaulted ceilings, the rooms dimension, the blend of antiquities and modern furniture, the high quality drapes and many important ornaments and valuables create a refined and elegant house and ensure to the guests a surprising pleasure of staying and any kind of comfort.
It is a typical Amalfitan residence situated on the upper part of the Baglio Hill. It originated in the centuries of medieval times when the Maritime Republic of Amalfi dominated the waves and developed in the following ages. The vast blue sea is visible from its big terraces, sweeping from the high peaks of the Lattari Mountains down to the view of Amalfi dipping its feet into the water in the hot summer. The comfortable welcoming house, heated in all seasons by the warm Amalfitan sun, has storage areas and stables covered with barrel vaults and pointed vaults on the ground floor. The original structure of the building is dating back to the 12th century.
Location. Situated along the road leading from Amalfi to Positano and Sorrento, it is suitable for those who are looking for peace and tranquillity without being 'off the beaten track' as Amalfi and all that it offers is reachable by a short drive (3 km).
1st floor. Inizio moduloThe total area of the villa, spread out over three levels connected with each other by external stone stairways, is 250 sq. m. indoor and 600 sq. m. meters of outdoor area consisting of terraces and gardens with wide panoramic views of Amalfi and the sea. The access to the villa is by means of a staircase which goes up from the area where you can park your car. 110 steps lead to the main gate opening into a well kept garden which enjoys an extensive view of the sea. It is equipped with deck chairs and garden furniture, shaded by a pergola. From the garden, twelve steps take up to the ground floor accommodation composed of a sitting area with wicker table and armchairs; a spacious dining/living room with solid wood table 4 seats and window which frames a truly fascinating view of Amalfi; two large double bedrooms. Both bedrooms have TV, independent air-conditioning/heating units and en-suite bathrooms. The nice bathrooms have elegant finishing touches, majolica green printed tiles, large shower cubicle with attractive blue and green ceramic insert, washbasin, WC, etc. One of the bedroom - can be made as a twin - is behind the living/dining room and is furnished with wrought iron bed head, antique bedside table and wardrobe, solid wood desk and French window onto the back of the villa (no views). The other bedroom with double bed and inbuilt wardrobe has window with lovely views.
2nd floor. From the main gate, passing through a private stairway of about 30 steps, one comes into a large garden terrace suitable both for sun-bathing or for dining outside while admiring the natural beauty of this unique bay. Part of the terrace is paved and shaded by olive trees and large awnings. It is furnished with outdoor shower, dining table seating 12 people, chairs, deck-chairs and a barbecue. Entrance into the middle floor of the house is straight from the garden. Entrance is onto a small hallway. On the right side, is a superb kitchen ultra modern and newly fully fitted with marble top, inbuilt solid wood drawers, electric oven, 3 small fridges, espresso coffee maker, dishwasher, antique dining table seating 12 people, marble open fireplace, window looking on the rear of the villa, precious lamps and chandeliers. It maintains the architectural beauty and character of the original structure with high vaulted ceilings. From the kitchen, a small corridor with 2 antique wardrobe leads onto an elegant bathroom equipped with a Jacuzzi tub and floor with majolica green printed tiles, WC, large basin on a wood basis, etc., a living room furnished with antique furniture and ceramic lamps, sofa 3 seats, 2 leather armchairs, small wrought iron table; a roomy double bedroom - can be made as a twin – furnished with antique chest of drawers, bedside tables and TV. Both the living room and the double room have access to the terrace in front of them overlooking the expanse of the Mediterranean seascape sea. On the left side of the hallway, a small corridor leads to a roomy double bedroom with window with lovely views, a smaller double bedroom with window opening onto the rear of the house. Both bedrooms have TV and share the same bathroom in the corridor. It features a shower cubicle, attractive floor with majolica blue printed tiles, WC, wash basin and window with views. At the end of this corridor, a door opens directly onto the garden terrace.
Attic. The top floor of the building is reached directly from the garden, by means of external stairway (25 steps). Entrance is onto a huge solarium terrace enjoying a wide view of the sea. It is furnished with wrought iron tables and chairs for four persons, inbuilt seating, outdoor shower and deck chairs. Seven steps lead down into a romantic attic accommodation for two persons composed of: dining room with sloping ceiling, a solid wood round table 4 seats, antique sofa 2 seats, wood corner kitchen with sink, 2 electric hotplates and small fridge, bathroom with shower cubicle, wash basin, WC, etc. Master bedroom - can be made as a twin – with sloping ceiling. It is furnished with large wrought iron bed head, antique furniture and window looking onto the garden.
Fittings and Amenities. Outdoor showers, washing machine, dishwasher, hairdryers in each bathroom, satellite TV, heating and air conditioning throughout, pay telephone for incoming and outgoing calls, ADSL internet connection, CD player, barbecue, 3 small fridge/freezer, four-burner cooker, microwave, toaster, electric oven, private parking spot suitable for 3 cars. Luggage carrying service, both on arrival and on departure, included in the rental price. Local chef, food delivery, babysitter, extra maid service, cot and high chair available on request for an additional fee. Mandatory weekly cleaning fee, payable locally including maid service 5 hours per day (Monday-Saturday) and one change of linen midweek. Electricity: 150 Kwh are included in the rental price. Excess of the included kwh will be charged locally.
Features
6 Double / Twin bedrooms

5 Bathrooms (1 with Jacuzzi)

Terraced garden with sun-beds

Shaded pergola with deck chairs and garden furniture

BBQ

Swimming pool with breathtaking views

Outdoor showers

Equipped kitchen with electric oven, 3 small fridges, espresso coffee maker, dishwasher, microwave

Wood corner kitchen with sink, 2 electric hotplates and small fridge

Fireplace

Washing machine

Air conditioning and heating

Sat TV, CD player and ADSL internet connection

Hairdryer

Parking for 3 cars

On request: local chef, food delivery, babysitter, extra maid service, cot and high chair
This is the area where your selected property is located - the pin is indicative and not an exact address.
Apr 2019
May 2019
Jun 2019

| | | | | | | |
| --- | --- | --- | --- | --- | --- | --- |
| Su | Mon | Tu | We | Th | Fr | Sa |
| | | | | | | |
| | | | | | | |
| | | | | | | |
| | | | | | | |
| | | | | | | |

| | | | | | | |
| --- | --- | --- | --- | --- | --- | --- |
| Su | Mon | Tu | We | Th | Fr | Sa |
| | | | | | | |
| | | | | | | |
| | | | | | | |
| | | | | | | |
| | | | | | | |

| | | | | | | |
| --- | --- | --- | --- | --- | --- | --- |
| Su | Mon | Tu | We | Th | Fr | Sa |
| | | | | | | |
| | | | | | | |
| | | | | | | |
| | | | | | | |
| | | | | | | |
| | | | | | | |

Jul 2019
Aug 2019
Sep 2019

| | | | | | | |
| --- | --- | --- | --- | --- | --- | --- |
| Su | Mon | Tu | We | Th | Fr | Sa |
| | | | | | | |
| | | | | | | |
| | | | | | | |
| | | | | | | |
| | | | | | | |

| | | | | | | |
| --- | --- | --- | --- | --- | --- | --- |
| Su | Mon | Tu | We | Th | Fr | Sa |
| | | | | | | |
| | | | | | | |
| | | | | | | |
| | | | | | | |
| | | | | | | |

| | | | | | | |
| --- | --- | --- | --- | --- | --- | --- |
| Su | Mon | Tu | We | Th | Fr | Sa |
| | | | | | | |
| | | | | | | |
| | | | | | | |
| | | | | | | |
| | | | | | | |

Oct 2019
Nov 2019
Dec 2019

| | | | | | | |
| --- | --- | --- | --- | --- | --- | --- |
| Su | Mon | Tu | We | Th | Fr | Sa |
| | | | | | | |
| | | | | | | |
| | | | | | | |
| | | | | | | |
| | | | | | | |

| | | | | | | |
| --- | --- | --- | --- | --- | --- | --- |
| Su | Mon | Tu | We | Th | Fr | Sa |
| | | | | | | |
| | | | | | | |
| | | | | | | |
| | | | | | | |
| | | | | | | |

| | | | | | | |
| --- | --- | --- | --- | --- | --- | --- |
| Su | Mon | Tu | We | Th | Fr | Sa |
| | | | | | | |
| | | | | | | |
| | | | | | | |
| | | | | | | |
| | | | | | | |

Jan 2020
Feb 2020
Mar 2020

| | | | | | | |
| --- | --- | --- | --- | --- | --- | --- |
| Su | Mon | Tu | We | Th | Fr | Sa |
| | | | | | | |
| | | | | | | |
| | | | | | | |
| | | | | | | |
| | | | | | | |

| | | | | | | |
| --- | --- | --- | --- | --- | --- | --- |
| Su | Mon | Tu | We | Th | Fr | Sa |
| | | | | | | |
| | | | | | | |
| | | | | | | |
| | | | | | | |
| | | | | | | |

| | | | | | | |
| --- | --- | --- | --- | --- | --- | --- |
| Su | Mon | Tu | We | Th | Fr | Sa |
| | | | | | | |
| | | | | | | |
| | | | | | | |
| | | | | | | |
| | | | | | | |